INFORMATION TECHNOLOGY CENTRE
The Information Technology group looks after the day-to-day operation of internet, intranet, web and email services in the institute with a view to smooth and effective operation of the system. The network utilizes a mixture of optical fibre, UTP cables and switches. The access to internet is provided through a gateway to the external world via a 10 Mbps leased line from BSNL.  A local Area Network has been set up which connects together approximately 150 computers spread over the AMPRI campus. Migration to a more efficient infrastructure with new servers to improve the quality of service has already been done. Multi-layered firewall, anti-spam engine, antivirus solution has also been implemented to enhance the overall network security.
The group also helps the Institute to plan for improving the quality of the services in terms of increasing the capacity and speed of the internet system. This has been done keeping in mind the growing demand of the institute in view of its increasing activities and manpower, and establishing a less paper working system for more effective monitoring of the progress of various activities. 
The major activities of the Information Technology (IT) Centre are:
Utilization of ICT tools for effective and efficient R&D Management along with other requirement of the institute.

Showcasing the niche areas, expertise and knowledge of the institute through institutional website.

Support to

  

CSIR-AMPRI

  

scientists

  

IT savvy

Utilize IT to realize economy of scales in common functions in transparent manner.

Establishment and maintenance of digital document-based decision support system

State –of- the -art data centre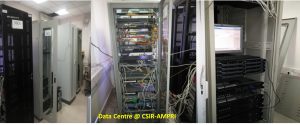 Major Programmes
The major programme of the IT centre is: "Building a scientific knowledge grid, ICT infrastructure and services for CSIR-AMPRI." The centre is providing support to high-end technology in developing scientific Management Grid solutions for enhancing the productivity of scientists through computing facilities to increase the pace of R&D activities. The group also rendering services to provide accurate, efficient, relevant information to the citizens in timely manner.  To set up minimum benchmark for institute's website "Guidelines for Indian Government websites" formulated by National Informatics Centre adopted by the Department of  Administrative reform and public grievances which are mandatory are being implemented to make the institute's website conform to the UUU trilogy i.e., user centric, user friendly and universally accessible.  To implement these GIGW guidelines, the group is ensuring a consistent and tested framework for maintaining the uniformity to meet the citizen expectation at all times; authentic, accurate easily accessible website.  The centre has also developed "Online Application submission" system application for calling online applications for recruitment of various positions/vacancies needed by the institute time to time.